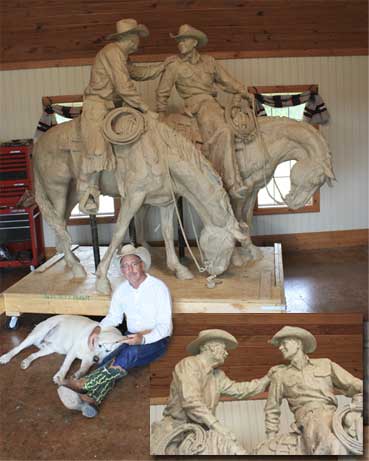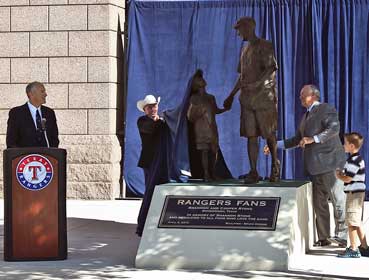 Eric Nadel, Bruce Greene, Nolan Ryan, and Cooper Stone unveil 'Rangers Fans' during dedication ceremony April 5, 2012.
Bruce Greene is one of the legitimate heirs to a cowboy kind of legacy that traces its beginnings back to Charlie Russell. It is a legacy that is tied hard and fast to a familiarity and feeling for ranch life reality and based on a bedrock of artistic accomplishment.
Way out in West Texas on the historic JA Ranch established by the patriarch of pioneer cowmen, Charles Goodnight, Bruce has discovered and tapped into a deep reservoir of cowboy reality and enough artistic inspiration to last him a lifetime.
Bruce has seen the sun come up between his horse's ears on the backside of Palo Duro pasture, and it is his privileged perspective that enables him to show us, through his art, the authentic essence of the contemporary cowboy.
There will come a time when the cowboys of today will look at Bruce Greene's art and smile at the memory of the way their world once was.
—Don Hedgpeth
Rangers Fans Dedicated at Rangers Ballpark in Arlington
Arlington, TX—Rangers Fans, a full-size bronze statue depicting Shannon Stone and his six-year-old son Cooper attending a Rangers game, was dedicated on Thursday afternoon, April 5, 2012, outside the Home Plate Gate of Rangers Ballpark in Arlington. Read full news release.